Time-limited Psychodynamic Psychotherapy with Children and Adolescents: An interactive approach
by Ruth Schmidt Neven
At a time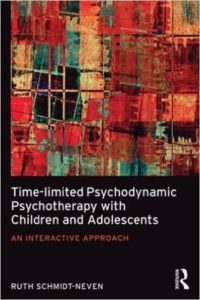 when there is increasing concern about the escalation of child and adolescent mental health problems, Time-limited Psychodynamic Psychotherapy with Children and Adolescents provides an innovative contextual model that engages the child or young person and their parents. The core of the model is the recognition of the dynamic capacity for growth in the child and how this, in itself, creates opportunities for effective treatment over a relatively short period of time.
Based on evidence that the most enduring therapeutic outcomes involve a shift in the parents' relational understanding of themselves, as well as a change in the child, the book uses case examples to show how this model can be applied in everyday therapeutic practice.
Time-limited Psychodynamic Psychotherapy with Children and Adolescents is aimed at practitioners in the field of child, adolescent, parent and family psychotherapy. It will interest psychologists, child psychotherapists, doctors, psychiatrists, social workers and mental health workers.
"What an exciting journey! From the first paragraph I was excited. By the second page, I was cheering. As I read further, no matter how my expectations soared, the author repeatedly exceeded them. …..she constantly reminds the reader that a child or adolescent cannot be understood without a comprehensive exploration of her/his context, insisting on contact with the family and reaching more widely to schools, child care, and other significant people or situations which might provide insight into the context of the young person in therapy."

– Glen Barnes, Breakthrough Consulting

(Read the full book review published in the Australian and New Zealand Journal of Family Therapy 2018, Vol. 39 117-123)
Buy this book on Amazon
Core Principles of Assessment and Therapeutic Communication with Children, Parents and Families: Towards the Promotion of Child and Family Wellbeing
by Ruth Schmidt Neven
Practition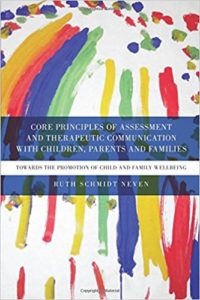 ers today are confronted by a bewildering array of therapies as 'cure alls.' This book provides an integrated approach to working with children, parents and families that can be applied by all professionals in a variety of settings. Informed by a psychodynamic perspective, it identifies how we can avoid pathologising the behaviour of children by instead considering:
the meaning of behaviour as an important source of communication
the commonality of all experience for children, parents and families
the emotional milestones of development
the core principles of assessment and therapeutic communication and how they are applied
Through the presentation of sound clinical evidence and research, Core Principles of Assessment and Therapeutic Communication with Children, Parents and Families creates connections between clinical practice and community action and, as such, is essential reading for anyone working to promote child and family wellbeing.
Read more about Core Principles in Ruth's interview in the Journal Counselling Children and Young People.
Buy this book on Amazon
Rethinking ADHD: Integrated approaches to helping children at home and at school
by Ruth Schmidt Neven, Vicki Anderson and Tim Godber
A co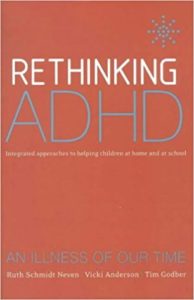 mprehensive and balanced approach to diagnosis and treatment is provided in this guide to ADHD. With the number of children diagnosed with ADHD increasing each year, the book suggests that doctors and parents too often rely on drugs without discussing long-term effects or treating contributing factors. This fresh analysis acknowledges that external factors such as the quality of long-term childcare facilities, the frenetic pace of modern life, social disadvantage, and emotional disruption caused by divorce and family dysfunction, all contribute to children's ability to learn, concentrate, and self-regulate behaviour. Case studies and practical recommendations for working in partnership with parents and children with behavioural and attention problems are included. Beneficial for teachers, psychologists, therapists, childcare workers, counsellors, social workers, and parents, this resource provides a deeper understanding of children with attention and behaviour problems.
"Rethinking ADHD is an essential book for all of us who are trying to make sense of everything that bewilders and fascinates us about the phenomenon of ADHD. It draws its net wide, broadening our thinking beyond the realm of medicine and neurology to embrace as well psychodynamic, psychological and socio-cultural perspectives."

— Peter Wilson, previously inaugural Director of YoungMinds UK
Buy this book on Amazon
Emotional Milestones from Birth to Adulthood: A psychodynamic approach
by Ruth Schmidt Neven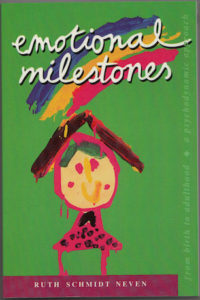 In continuous publication for over fifteen years, Emotional Milestones introduces new generations of professionals to the world of emotional and psychological wellbeing of children and young people and their parents and carers. It offers a conceptual framework for understanding and facilitating child and family development. The psychodynamic approach seeks to combine theoretical understanding and practical observation to create a new way of understanding human behaviour which may influence the way services and facilities for children and parents are organised.
Key concepts in this approach include:
the inner world of dreams, fantasy and play is important in the construction of self
all behaviour has meaning and is always a communication between children and adults
behaviour is dynamic and changes all the time
the need to understand the child as an individual and within the context of the family
"This is a powerful and compassionate book. It presents all of us with a great challenge, to understand what children are trying to communicate by their behaviour. The psychodynamic approach offers a framework to parents childcare workers, teachers, doctors and nurses to work together to understand and facilitate child and family development. It has the potential to make a major contribution to child health."

— Journal of Paediatrics and Child Health
To order a copy of this book, please contact The Centre.