The Foundation Course has established a reputation for making psychodynamic ideas accessible and highly practical for all professionals who work with children, adolescents and parents in a wide range of settings.
Click here to view the NEW two day training for March 2018
The course is suitable for: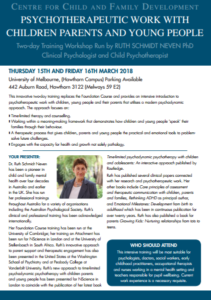 social workers
community workers
psychologists
maternal and child health nurses
kindergarten and child care workers
teachers
doctors
lawyers
No previous therapeutic experience is required.
The Foundation Course is devised and run by Dr Ruth Schmidt Neven, Director of the Centre.
For more information about pricing and to register your interest contact The Centre.