The Foundation Course has established a reputation for making psychodynamic ideas accessible and highly practical for all professionals who work with children, adolescents and parents in a wide range of settings.
New Training:
Psychotherapeutic work with children parents and young people
A two-day introductory workshop to psychodynamic thinking and practical clinical work with children, adolescents and parents. The course centres on a Protocol for Assessment and Therapeutic Communication with children parents and families developed by Ruth Schmidt Neven that is underpinned by research and clinical evidence. Participants receive copies of the Protocol. The Protocol covers the following elements that are an essential part of the assessment and therapeutic process.
Getting the physical and mental setting right
Acting as advocates for the child and young person
Understanding the primary task
Providing containment – the therapeutic cornerstone
Recognizing transference and the reflective process
Working with the right people – including both parents
Understanding the core developmental task and family context
Creating hypotheses- working towards a formulation
Setting appropriate parameters in the therapeutic setting
Managing beginnings and endings
Assessing what constitutes change and a positive outcome
The two-day training has a specific focus on:
Effective time-limited therapy and counselling
Working within a meaning-making framework that demonstrates how children and adolescents 'speak' their families through their behavior
A therapeutic process that gives children, parents and young people the practical and emotional tools to problem-solve future challenges
Engaging with the capacity for health and growth not solely pathology
Connecting training with ongoing supervision and support:
This training is unique in offering ongoing support and supervision that is geared specifically to the needs of the graduates of the training. This will be offered either face to face as an ongoing supervision group or via video conferencing.
The course is suitable for: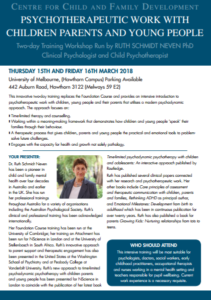 social workers
community workers
psychologists
maternal and child health nurses
kindergarten and child care workers
teachers
doctors
lawyers
No previous therapeutic experience is required.
The Foundation Course is devised and run by Dr Ruth Schmidt Neven, Director of the Centre.
For more information about pricing and to register your interest contact The Centre.